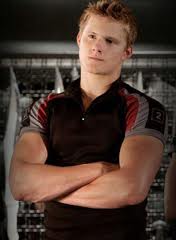 Cato is a highly skill Career.
First seen watching tv about Hunger Games.
He was waiting for Katniss in the training room.
He watch as Katniss made a bullzeye, and completed her on it.
They had a meeting and told them a plan if one of them gets captured.
He gets captured by Thresh first thing. He listens to the Careers converstion and he talks to clove. He talks to Peeta before the careers come to get him and he talks to Katniss as she call to him.
Unknown
Personality
Edit
Definted and brave in battle and not in battle.
Relationships
Edit
He has a crush on her when they became in eye of each at his first gathering.
They are just friends but Clove has a crush on him.
Highly dislike since he also likes Katniss.
Sword: given from his father.