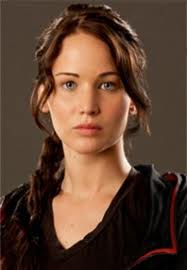 Katniss is from District 12 and a tribute.
Her dad died in a mine explostion when she was 12 years old and she has a sister name Primerose(Prime).
She meets Peeta when she was looking for food for her mom and sister and almost gets in trouble for it.
First seen watching tv about Hunger Games. She met Peeta on the train but she remember meeting him eariler. He gave her the burnt beard.
She became a Career on the first day. Fivth day she had ran towards her friends. She got a bullzeye, got may compliments from it. Remembering not to tell Peeta.
Mrs.: alive
Mr. Everdeen: desseced
Primerose(Prime)
Personality
Edit
Strong survairl instences. Really good acher.
Relationships
Edit
Her best friend and always hangs out with him.
They first started reblion against Snow cause of his evilness. She has a little crush on him.
Also one of the people started the reblion against Snow of his evilness.
They first met each at the her third gathering. Then they fell in love.
She is also part of reblion first join at 12 years old.
She will either go with Cato or Peeta.
Bow and Arrows: To fight and hunt animals. She always uses it.
Knife: got during her first fight. Sometimes uses it during battle.