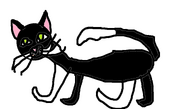 Appreance
Edit
Meadowpaw is a black and white she-cat with green eyes. She looks like her father.
Meadowkit was born to Blackblood(Blackstar) and Ironskin with two siblings Greenkit(Greenpaw) and Petalkit(Petalkit) in CrowClan. In the middle of Green-leaf.
At 6 moons old she became apprentice and her mentor is Leafthorn.
Two moons old she and her clan were attack by FireClan and made two new friends Jade and Night. She met Bone a leader of BoneClan who wanted to talk to her father/leader.
Ironskin: alive
Waterstar: alive WaterClan
Blackstar: alive
Greenpaw: alive
Petalkit: alive
Hawk: alive
Grassstar: alive GrassClan
Coldheart: alive
Night: alive
Jade: alive
Midnight: alive
Russet: alive
Grandfathers:
Edit
Bone: alive BoneClan
Cellblaze: alive WaterClan
Beetlewhisker: desseced verfied in StarClan
Grandmothers
Edit
Burn: alive BoneClan
Dovefeather: alive WaterClan
Deadair: desseced verfied in StarClan
Personality
Edit
Her warrior name is Meadowbreeze
She is haft-clan since her father was a rogue from Bone Pack.
Growing: grows planets, herbs, and trees.