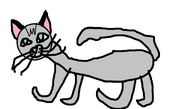 Apprences
Edit
Volepaw is a silver tom with blue eyes
Volekit was born to Featherstar and Ivy with two siblings Ivykit and Dovekit in the middle of Leaf-bare.
He became an appprentice at the age of 6 moons old to Scarminnow.
He was relaxing and watching his siblings coming back from hunting and seeing his mother aguring with the deputy Littlemouse. He went to the apprentice den to have a good night sleep, he met Sparrowstar and he was told by a prohecy he was in.
Personality
Edit
His warrior name will be Volescar.
Talking to fish and other underwater animals